Franz Ferdinand – Do you want to
Artista: Franz Ferdinand
Brano: Do you want to
Album:
Regia: Diane Martel
Anno: agosto 2005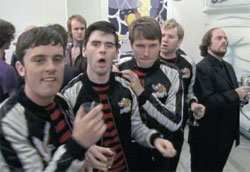 Magnifici cazzoni. Non quelli di carne, per la miseria, parlo dei quattro moschettieri di Scozia, sempre più pop e sempre più ciucchi, in onda in questi giorni sulle varie emittenti musicali. Una manica di zoticoni che ha rubato il nome all'arciduca di Graz e delle fichissime Sukajan Jackets da un baracchino di souvenir giapponese.
I Franz Ferdiand hanno parcheggiato la Vespa fuori dai New York Skylight Studios e vanno a caccia nelle galleries della City, stemperando l'ambiente un po' radical chic che impesta le installazioni di istant art.
Quanto a movenze e smorfie facciali i Ferdinand non ci dicono molto di più di Ziggy Stardust e dei Weezer.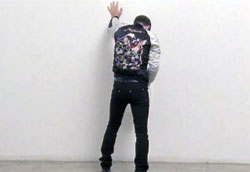 Eravamo abituati ad Alex Kapranos e banda in versione pagliaccioni, ma questa volta hanno voluto esagerare. Sbronzandosi sul serio innanzitutto e poi spandendo denaro ai quattro mari. Perché volare oltre oceano per girare un video che potevano benissimo realizzare con "quattro" sterline a Edimburgo? E perché scegliere una regista (Diane Martel) abituata ad altissimi budget quando le gag erano già state scritte dalla band e dal loro coreografo Paul Thompson?
Affari loro, dopotutto.
Anche se il loro alito è micidiale e hanno dollari da fumarsi arrotolati in lunghe pivette, i Franz Ferdinand sanno come prendersi gioco del prog rock (vedi alla voce Soft Machine) e dell'intellettuale di facciata, senza farsi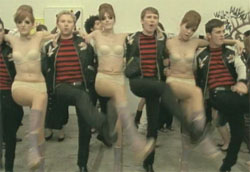 detestare da chi, come il sottoscritto, ama ancora quella filosofia musicale.
Do you want to evoca mostri del passato come Tony Hancock e il suo monumento alla cazzoneria The Rebel (Robert Day, USA, 1961), ma senza voler usare quest'ultimo come pietra di paragone, il video della Martel sembra solo un gratuito esercizio di divertissement.
Per non uscire troppo dal seminato, l'ultima clip dei F. F. ha delle trovate spiazzanti e "lucky – lucky" solo fino alle scene dell'esibizione live, dove loro stessi si ritroveranno a diventare natura morta da ammirare con il finto interesse di chi guarda certi corti al Milano Film Festival.
Videografia di Diane Martel

• 2005 – I don't care – Ricky Martin, featuring Amerie & more
• 2005 – So high – John Legend
• 2005 – Do you want to? – Franz Ferdinand
• 2005 – Fearless – the Bravery
• 2005 – Touch – Omarion
• 2005 – Hold you down – Jennifer Lopez, featuring Fat Joe
• 2005 – U already know – 112
• 2005 – Get right [version 2: remix] – Jennifer Lopez, featuring Fabolous
• 2005 – Get right [version 1] [uncredited] – Jennifer Lopez
• 2004 – Bridging the gap – Nas
• 2004 – Welcome to my truth – Anastacia
• 2004 – Nobody's home – Avril Lavigne
• 2004 – I could be the one – Stacie Orrico
• 2004 – If I ain't got you – Alicia Keys
• 2004 – The way – Clay Aiken
• 2003 – 5 mile (these are the days) – Turin Brakes
• 2003 – Invisible – Clay Aiken
• 2003 – Dance with my father – Luther Vandross
• 2003 – Stuck – Stacie Orrico
• 2002 – My goddess – the Exies
• 2002 – From tha chuuuch to da Palace – Snoop Dogg
• 2002 – Like I love you (as Bucky Chrome) – Justin Timberlake, featuring the Clipse
• 2002 – When's the last time? (as Bucky Chrome) – the Clipse
• 2002 – Fallen star (as Bucky Chrome) – Latoya Williams
• 2002 – Grindin' (as Bucky Chrome) – the Clipse
• 2002 – My neck, my back – Khia
• 2002 – Just a friend • 2000 – Mario
• 2002 – Rock-star poser [version 2: school gym] – N.E.R.D.
• 2002 – I swear – Cherokee
• 2002 – (title unknown) – the Clipse, featuring the Neptunes
• 2001 – Burn – Mobb Deep, featuring Noyd
• 2001 – Young, fresh and new – Kelis
• 2001 – After the rain has fallen – Sting
• 2001 – Lapdance – N.E.R.D., featuring Lee Harvey
• 2001 – Front to back – Xzibit
• 2001 – Who's that girl? – Eve
• 2000 – Keep it thoro – Prodigy of Mobb Deep
• 2000 – Case of the ex – Mya
• 2000 – Send it on – D'Angelo
• 2000 – Break fool – Rah Digga
• 2000 – Why not? – Erick Onasis, featuring Slick Rick
• 2000 – If you don't wanna love me – Tamar Braxton
• 2000 – Imperial – Rah Digga, featuring Busta Rhymes
• 1999 – What a girl wants – Christina Aguilera
• 1999 – G'd up – the Eastsidaz, featuring Snoop Dogg & more
• 1999 – This time around [version 2] – Michael Fredo
• 1999 – Heartbreaker [version 2: remix] – Mariah Carey, featuring Missy Elliott & more
• 1999 – Angel of mine – Monica
• 1999 – Paper – Krayzie Bone
• 1999 – Tear it off – Redman & Method Man
• 1999 – Something I cannot have – Catero & Quincy Jones
• 1999 – Watch it out, turn it out – the Beatnuts
• 1999 – Genie in a bottle – Christina Aguilera
• 1999 – Just another love song – Insane Clown Posse
• 1999 – Don't stop – Heavy D
• 1999 – Creatine – Cool Breeze
• 1999 – Here I go – Infamous Syndicate
• 1999 – Eyes better not wander – Nicole
• 1998 – My all / Stay a while [SoSo Def remix] – Mariah Carey, featuring Jermaine Dupri
• 1998 – The weekend – Dave Hollister
• 1998 – Breakdown – Mariah Carey & Bone Thugs-n-Harmony
• 1998 – Whatcha gonna do? – Jayo Felony, featuring Method Man & more
• 1997 – 4, 3, 2, 1 – LL Cool J, featuring Method Man & more
• 1997 – The roof – Mariah Carey
• 1997 – I'm not feeling you – Yvette Michele
• 1997 – Head over heels – Allure, featuring Nas
• 1996 – Back at you – Mobb Deep
• 1996 – I am L.V. – LV
• 1995 – I'll be there for you / You're all I need to get by – Method Man & Mary J. Blige
• 1995 – The Riddler – Method Man
• 1994 – All I want for Christmas is you [version 1: color] – Mariah Carey
• 1994 – Anytime you need a friend [version 1] – Mariah Carey
• 1994 – The most beautifullest thing in this world – Keith Murray
• 1994 – Bring the pain – Method Man
• 1994 – Chief Rocka – Lords of the Underground
• 1994 – Mass appeal – Gangstarr
• 1994 – Miss you most (at Christmas time) – Mariah Carey
• 1993 – Dreamlover – Mariah Carey
• The worst – Wu-Tang Clan
• Shaolin anthem – Shyheim
• How high – Redman & Method Man
• The worst – Onyx, featuring Wu-Tang Clan
• Brooklyn Zoo [version 1] – Ol' Dirty Bastard
• N.O.R.E. – Noreaga
• Just wanna please U – Mona Lisa & the Lox
• Here I come – Case
• You're all I need – Mary J. Blige
• What's the deal? – AZ

A cura di Fabio Falzone
videoclip :: No tags